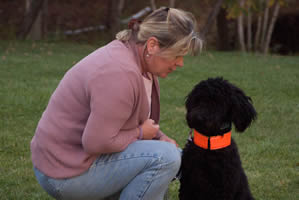 "I've recently reconnected with Myrph and her professional sensibilities with dogs. It's been a fantastic experience.
I'd used Myrph's services with one of my dogs about 25 years ago, and then lost touch with her.
Later…..when my kids were small we got two dogs that didn't get the training they needed because of our "busy" lives.  We thought we could handle them.  They presented a few new problems; they were aggressive towards other dogs, territorial, tried herding children with nips at their heels, and could pop tires with their teeth on guest's cars when they were leaving!  It was hard to be relaxed in social situations when they were involved. Now with empty nest, I got a puppy.
I just finished my first puppy class with my dog.  I can't begin to tell you how wonderful it is to have a dog that has been socialized with other dogs, will come when I call her and listen to my commands. She's not perfect, but Myrph has given me the knowledge and confidence to pursue a happy bright future with my new best friend."
~ Colleen & Gracie
---
Before I knew Myrph, I used to see her at the park teaching dog lessons and on occasion she would come into the shop where I worked. I had always wanted a dog, and I asked Myrph for help finding a good one. She listened to my requirements, and helped me find a dog at the shelter that was a good fit for me. Needless to say, I fell in love and took home a fifty pound husky shepherd mix. He was already four or five years old and I soon realized he had some problems.
My dog Cody liked to chase deer and he did not ever come when he was called. He also acted aggressively toward other dogs when he was on a leash. Myrph was able to help me understand why he did these things and how I could get him to change. With Myrph's help and training, I was able to change Cody's problem behaviors. It took time and work. Today, I am able to hike in the woods with Cody every morning without having him on a leash. He comes when he is called every time and stays with me on my hikes. He likes other dogs now. Before he got old, he often played with other dogs.
Now I have a second dog who was a stray that no one else wanted. I am back in Myrph's training classes with my new dog Jock. He also, is becoming a dog that I am proud to own. Thanks Myrph !
~ Chuck & Cody
---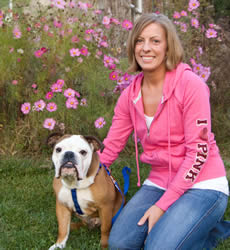 "My puppy and I recently attended a six week puppy class with Myrph, and I couldn't be happier with the outcome.
In my opinion, Myrph is "all knowing" when it comes to dogs, and she has an excellent way of communicating that knowledge to everyone in her class.
The information Hudson and I learned in class was very practical, and could easily be incorporated into our everyday lives.
I would highly recommend Myrph's classes to any dog owner.
Thank you, Myrph!"
~ Tara & Hudson
---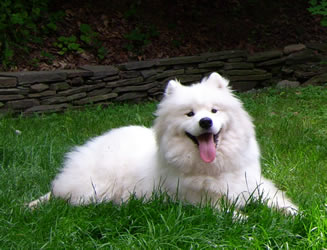 I was put in touch with Myrph years ago by a mutual friend when I adopted a puppy from the pound. This was my very first dog and I had no idea how to train her. We went to our first puppy class together and were hooked. Not only did we both learn so much from Myrph, but we enjoyed the socialization with the other dogs and owners. We eventually took several more classes throughout the years and it was amazing how much we both benefited.
Recently I've acquired a new puppy, a Samoyed, Shane. He's a wonderful dog but true to his breed, he's very hard-headed and smart. We headed back to Myrph's to work out some kinks and it has really paid off.
I've always recommended Myrph to fellow dog-owners who were experiencing behavior problems with their dogs or who just want to brush up on commands. What I like about the way Myrph trains her students is she will approach any problem multiple ways to tailor to the needs of that particular student. If one approach does not work for you, she will give you multiple alternatives until the problem is solved. No doubt Shane and I will be back to visit Myrph soon.
~ Mick & Shane
---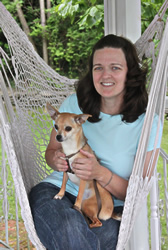 I took a basic obedience class with Azalea when she was a puppy, but there were some issues that aren't addressed in that setting – door manners, barking out of the house windows or when on the porch, how to ride in the car, etc. When Azalea was six, I finally decided to address these items with training, and more than half a dozen friends and coworkers recommended Myrph. She helped my dog and me make changes with her very first private lesson at my house, and we're continuing to work on skills and refine behaviors with ongoing sessions as needed. Myrph's insights and recommended reading have helped me to better understand how Zale sees the world, and how I can best interact with her to get the results I'm looking for. In short, I should have done this years ago. Make the investment in yourself, your dog and your joint relationship – you won't be sorry!
- Sarah Soden, Vestal, NY, and chihuahua Azalea
---