"As a youngster, I was identified by my family and by our neighborhood as someone who could get a dog to do almost anything. I worked on a horse farm, but I had an uncanny knowing of dogs and feeling of comfort in the company of dogs. Every night the weather permitted, I slept in the barn with the family dog. He followed me about into the woods and around the neighborhood and watched over me.  I much preferred his company to that of the other children in the neighborhood."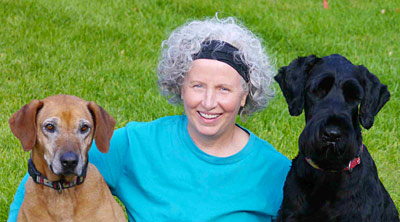 "After years of formal study of canine behavior and years of training and competing in field, tracking, bench and obedience with my own dogs, I entered the field of professional dog training.  I began as a professional trainer of hunting dogs, which was very lucrative.  However, I became greatly discouraged and deeply pained when, after working with a dog for several weeks, developing a friendship and mutual respect with this animal, I saw what happened to him when my work was done. After the hunting season was over, the dogs I had come to love were often sent back to a life of isolation, sometimes a life of discomfort and filth, relegated to an outdoor cage with automatic feeders and water deicers, ignored and abandoned until a few weeks before the next hunting season. At the time, hunters commonly believed that one could not enjoy the company of a good hunting dog in the home, as the indoor home life would "soften" the dog and also destroy the dog's superb olfactory powers. My efforts to dispel this myth failed. Ultimately I found this work to be heartbreaking. After six years of building a sizeable clientele and a good reputation as a trainer of hunting dogs, I decided I couldn't continue.


"I then made the decision to work solely with owners of companion pet dogs rather than hunting dogs. I find this work to be more rewarding than any other work I have done. We are remarkably successful, these pet owners and I, in learning to communicate and interact effectively with their dogs.  I love to watch what happens when a frustrated dog owner grows into a person who truly enjoys their dog."